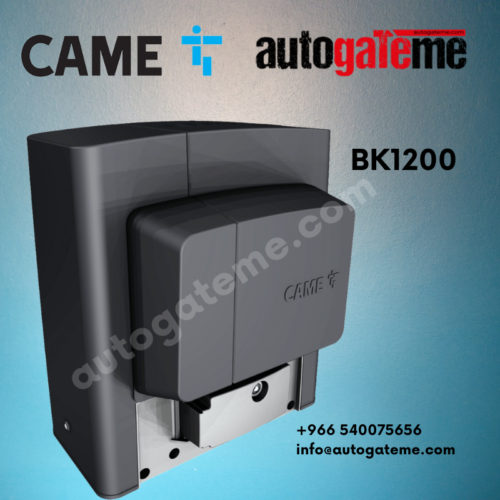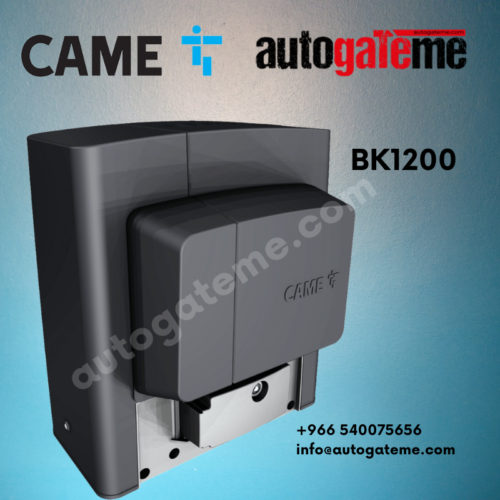 Came BK1200 BKS12ALS Sliding Gate – Up to 1200 KG
Made in Italy
Protection rating (IP): 44
Power supply (V – 50/60 Hz): 230/400 V AC TRIFASE
Power supply to motor (V): 230/400 V AC TRIFASE
Power (W): 1000
Operating temperature (°C): -20 ÷ +55
Motor's heat protection (°C): 140
Description
CAME sliding gate motor CAME BK1200 in Saudi Arabia by Autogateme
Came BK1200 or BKS12ALS BKS12AGS , BKS12RGS sliding gate motors or also called Came electric gates are ideal solutions for applying sliding gates for busy venues or industrial entrances.
Automation complete with electronic board built-in radio remote programming and mechanical limit switches for sliding gates up to 18Kg and 15m in length.
Technical Specifications:
Technical
IP Rating
44
Max Gate Weight
1200Kg
Max Speed
10.5m/min
Motor Voltage
230Vac
Work Cycle
50%
CAME sliding gate motor Saudi Arabia:
Came Automation is one of the leading and most trusted brands within the gate automation sector. They offer a range of highly capable systems that are built to last. Their products include came Parking barrier, CAME sliding gate motor, PCBs (programmable control boards), safety photocells, remote keyfobs, access control keypads, and automation kits. BK models such as 801MS-0070 801MS-0080 801MS-0090 801MS-0100 801MS-0120 400v–801MS-0130 801MS-0110
The AutoGateMe is the leading CAME automatic gates supplier in Saudi Arabia. 
Based in Riyadh, Saudi Arabia, Autogateme is installer with complete system solutions encompassing gate barriers, turnstile, speed gates, swing/sliding gate motors, software, and accessories all over the middle east such as UAE, Bahrain, Kuwait, Qatar. We do projects in middle east cities such as Dubai, Ajman, Abu Dhabi, Sharjah, Doha, Manama, Kuwait city etc.
We are based in Riyadh, we can do projects all over Kingdom such as Jeddah, Khobar, NEOM, Jizan, Tabuk, Taif, Makkah, Madinah, and Dammam.