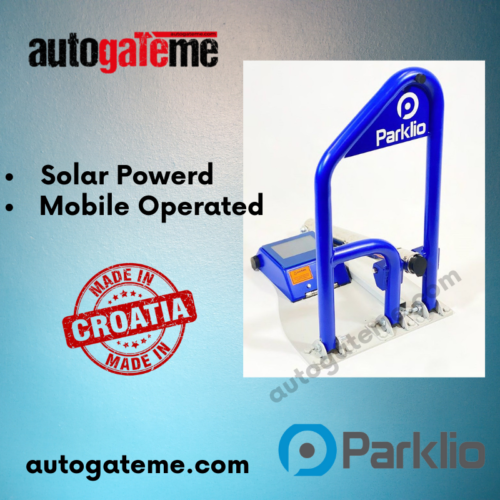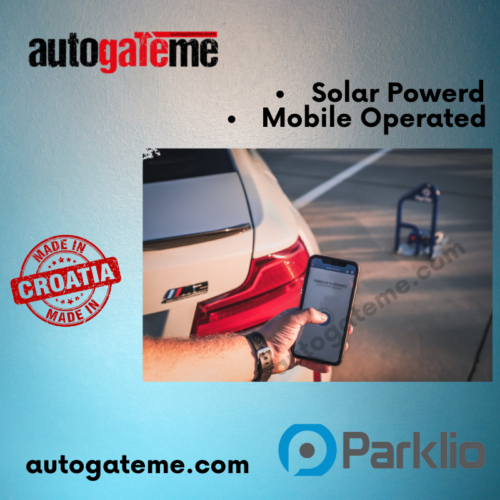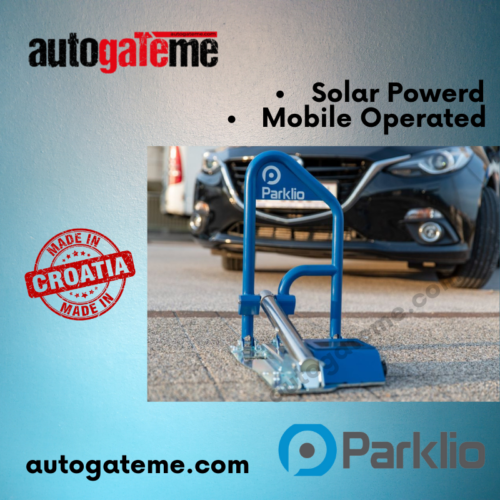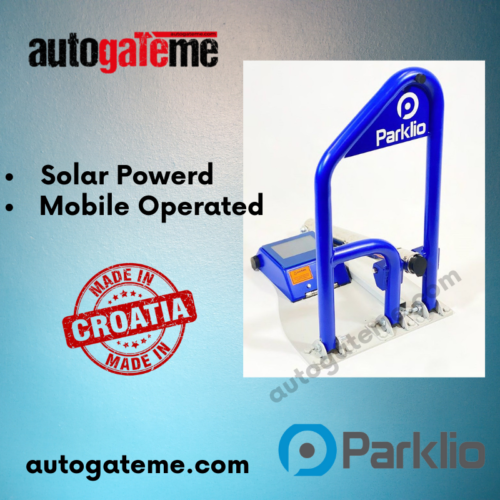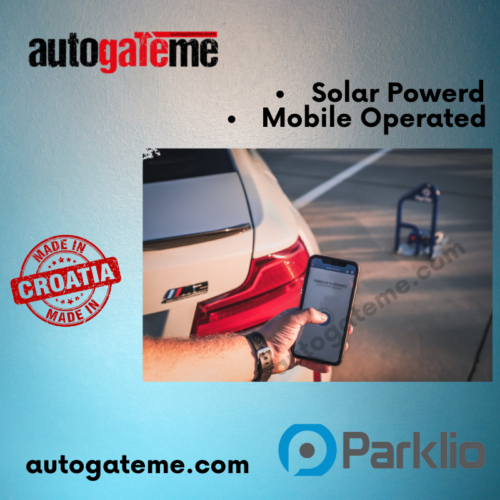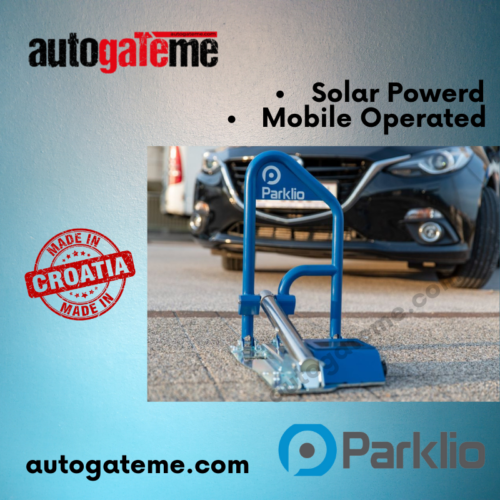 Automatic Parking Barrier – Smartphone Operated
Remote controlled by your smartphone. Solar powered.
Full automatic with remote control on your smartphone
Uses solar powered battery – no connection to the grid needed
Up to 6 months autonomy on a single full battery charge
Stainless steel casing which resists up to 6T pressure
Can be programmed to erect automatically when you leave your parking space
Resists any type of weather
Downloadable app for your smartphone
Temporary digital key for visitors
Description
Automatic smart parking barrier in Saudi Arabia by Autogateme
Parklio Parking barrier:
The installation is very simple with the supplied fixings and does not differ from those of a standard type barrier: it is firmly fixed in the ground with a number of bolts.
The smart parking barrier works with an electric motor connected to a rechargeable Lithium-ion battery that is charged by solar energy. A fully charged battery lasts up to 6 months. There is also the possibility to connect the barrier to the power supply.
The intelligent parking bracket Parklio does not require a separate remote control, it is controlled by an app on your smartphone. Downloading the app is of course free of charge. This allows you to easily raise or lower your parking barrier from the comfort of your car. What is special is that in the settings of the app you can activate the "auto close" function so that the bracket itself detects when you leave your parking space and then automatically erects itself. You do not have to close it via the app when you drive away.
The app also includes a "sharing function". With this you can give someone an digital key for a certain period of time with which he/she can open or close the barrier during that period. This is very useful if you want to save your visitor the trouble of looking for a parking space when they arrive.
Durability:
Parking barrier / parking space guard PARKLIO is made of sturdy steel and withstands up to 6 tons of point load. It has a built-in protection that makes it impossible to open the bracket while a vehicle is parked above the barrier. As soon as the bracket feels the resistance of the vehicle, it will automatically lower itself without damaging the car above.
This parking barrier comes with all required fixing materials and clear instructions. You will also find all the necessary information, tips and manuals. We recommend that you fully charge the battery of your PARKLIO parking barrier before installation with the supplied charger. That way you can be sure of optimal operation from the moment your barrier is installed.
The intelligent parking barrier PARKLIO is ideal for guarding reserved parking spaces in public, private and business car parks.
Automatic parking barrier in Saudi Arabia: 
we are Based in Riyadh and Jeddah, Saudi Arabia, Autogateme is installers with complete system solutions encompassing smart parking barrier/parking space blocker software and accessories all over KSA. Parklio Products distributors in Saudi Arabia, Riyadh, Jeddah, Khobar, Jizan, Tabuk, Taif, Makkah, Madinah and other part of KSA. Call us for Parklio barrier Saudi Arabia, Parklio Spare Parts Saudi Arabia. Parklio barrier Jeddah, Riyadh, Khobar, Jizan, Tabuk, Makkah, Madinah.
Autogateme are leading supplier of the Parklio Barrier/boom barrier, spare parts supplier and installer all over KSA.
Contact us today by email: info@autogateme.com or Call/whatsapp us +966540075656