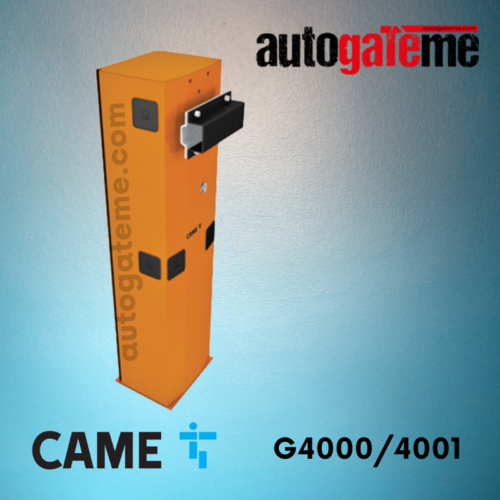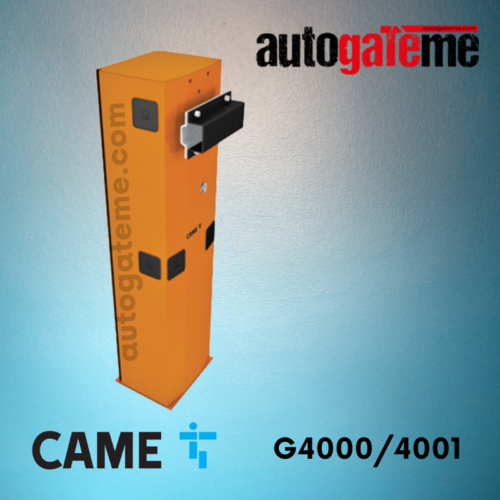 CAME GARD G4000/G4001 24v Barrier up to 4m
Ideal for private or public car parks
The model for passages up to 3.75m comes in the 230 V AC version
There is also a version in AISI 304 steel
Can be installed to the left or right, the mounting procedures are quick and easy
A truly complete range of accessories to customize your installation, which includes a choice of safety accessories for peace of mind during operation
The special joint is for installing  CAME barriers even when height is an issue when raising or lowering the boom, as in underground parking lot
G4000/G4001 Include Control Panel up to 4M
Description
Came G4000 Parking Gate Barrier System up to 4m in Saudi Arabia.
Came Barrier Gate G4000 or also called CAME Gard 4000 or CAME G4001 barrier is one of highest selling barrier in Saudi Arabia. The Came G4000 is an automatic Came barrier kit with a 4-meter-long arm. used to control traffic in different areas. Came parking barrier in kit CAME G4000 Came barrier is a barrier to access reliable, stylish design and numerous functions . The 4-meter arm barrier can be suitable in private or public car parks. It fits in both industrial and residential areas.
Came Barrier Gate G4000 Barrier is one of the most widely used access barrier.
This kit does NOT include the signaling lamp and reflective tape.
CAME G4000 BARRIER KIT COMPONENTS:
Came G4000 barrier body with integrated control panel;
Arm rectangular barrier with a length of 4 meters;
DIR10 or delta infrared photocells ;
AF43S radio receiver ;
TOP 432EV radio remote control with 433.92 Mhz frequency.
The AutoGateMe is leading Barrier gate or boom barrier or drop arm barrier supplier & installer in Saudi Arabia also Cities such as Dammam, Khobar, Jizan, Qatif, Tabuk, Abha, Madinah, Makkah, Taif etc. Came G4000 or also called Gard 4000 / 4001 barrier all spare parts also available with us. We supply all came spare parts in Bahrain, Kuwait, Egypt, Sudan etc.   Came AF radio frequency receiver card such as AF43S, AF43TW, AF43SR. Came all kits come with a full guarantee. We also offer 'Best Price in the Kingdom' on all Came automatic gates kits so you can buy from us with confidence.
Contact us today for Came Barrier Gate G4000 by email: info@autogateme.com or Call/whatsapp us +966540075656