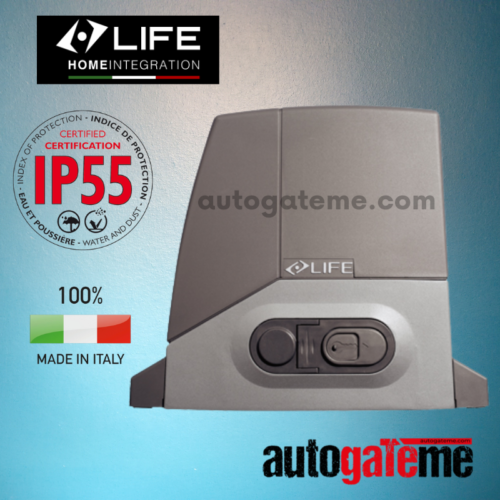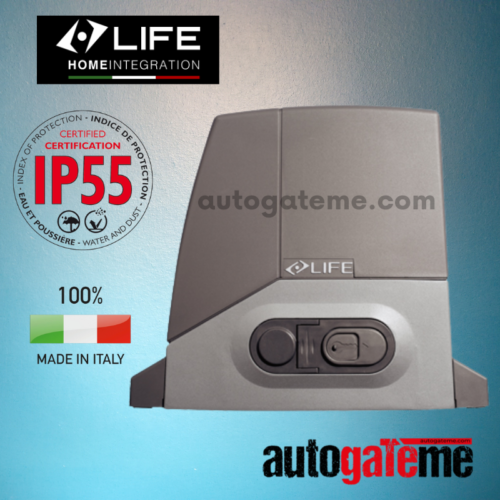 LIFE ACER IP55 1200KG Sliding Gate Operator – Made in ITALY
Irreversible electromechanical gearmotor for sliding gates.
Available in two 24 V versions and nine 230 V versions.
Structure in tough, lightweight aluminium.
External shell designed to protect against impacts.
Motor body coated with polyester paints specially made for outdoor use.
Description
LIFE ACER IP55 Sliding Gate Motor
LIFE Sliding Gate Motor Kits ACER , AC12R-DL in Saudi Arabia by Autogateme. This ACER AC8R-DL  is a rack-based slide gate operator (also referred to as a slide gate motor or slide gate opener) system. Includes the ACER AC8R-DL slide gate opener, control panel, 16 tooth pinion, limit switch plates, mounting hardware.
ACER AC8R-DL  SLIDE GATE OPERATOR KIT INCLUDES:
One operator
Control Panel (internal)
16 tooth pinion
Limit Switch Plate
Contact us for ACER AC8R-DL Sliding Gate Operator  Manual. The AutoGateMe is a leading LIFE AC8R-DL automatic slide gates, supplier in Saudi Arabia. We Offer LIFE ACER Sliding Gate Motor Kits for AC8R-DL , AC12R-DL & AC15R-DL in Saudi Arabia. LIFE ACER all kits come with a full guarantee. We also offer 'Best Price in the Middle East' on all LIFE ACER automatic gates kits so you can buy from us with confidence.
Based in Riyadh, Saudi Arabia, Autogateme is an installer with complete system solutions encompassing gate barriers, turnstile, speed gates, swing/sliding gate motors, software, and accessories all over the middle east such as UAE, Bahrain, Kuwait and Qatar. We do projects in the middle east cities such as Dubai, Ajman, Abu Dhabi, Sharjah, Doha, Manama, Kuwait city etc.
LIFE ACER Products distributors in Saudi Arabia, Riyadh, Jeddah, Khobar, Jizan, Tabuk, Taif, Makkah, Madinah and other parts of KSA. Call us for  LIFE ACER AC8R-DL , AC12R-DL & AC15R-DL Spare Parts Saudi Arabia.