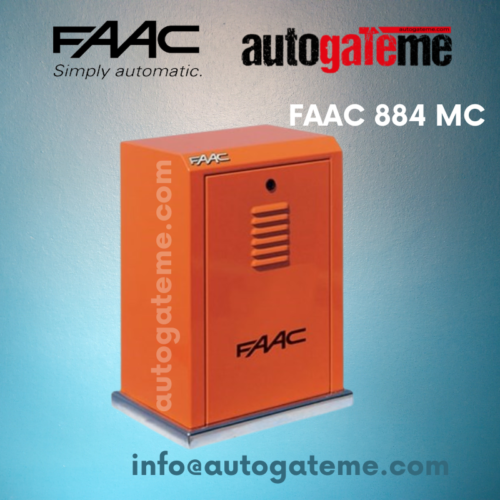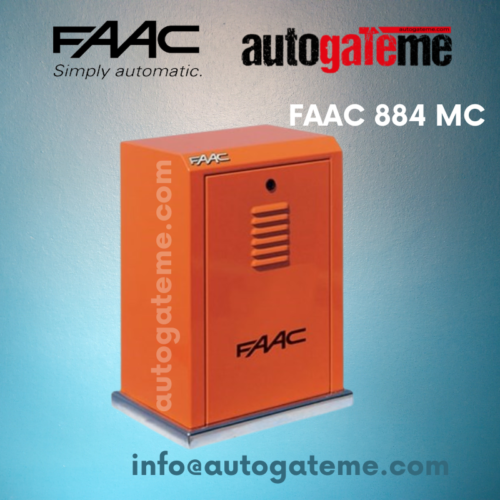 FAAC 884 3-PHASE Sliding Gate Operator – 3500KG
Ideal for commercial and industrial applications
Anti-crushing safety
As the gear-motor is non reversing, no electric locks need to be installed
In the event of a power cut, the key-operated release device makes it possible to open and close the gate manually
Twin-disk clutch in oil-bath
Inductive or magnetic limit switch (according to model)
Description
FAAC 884 Sliding Gate Operator
FAAC sliding gate operator 884 MC in Saudi Arabia by Autogateme. This FAAC 844 is a rack based slide gate operator (also referred to as a slide gate motor or slide gate opener) system. Includes the 884 slide gate opener, control panel, 16 tooth pinion, limit switch plates, mounting hardware. Rack is not included. Choose 230 VAC or 115VAC.
FAAC 884 SLIDE GATE OPERATOR KIT INCLUDES:
One operator
Control Panel (internal)
16 tooth pinion
Limit Switch Plates
***RACK NOT INCLUDED
Contact us for FAAC Sliding Gate Operator  Manual. The AutoGateMe is a leading FAAC automatic slide gates, supplier in Saudi Arabia. We Offer FAAC Sliding gate 884 & 844 in Saudi Arabia. FAAC all kits come with a full guarantee. We also offer 'Best Price in the Middle East' on all FAAC automatic gates kits so you can buy from us with confidence.
Based in Riyadh, Saudi Arabia, Autogateme is installer with complete system solutions encompassing gate barriers, turnstile, speed gates, swing/sliding gate motors, software, and accessories all over the middle east such as UAE, Bahrain, Kuwait and Qatar. We do projects in the middle east cities such as Dubai, Ajman, Abu Dhabi, Sharjah, Doha, Manama, Kuwait city etc.
FAAC Products distributors in Saudi Arabia, Riyadh, Jeddah, Khobar, Jizan, Tabuk, Taif, Makkah, Madinah and other part of KSA. Call us for FAAC barrier Saudi Arabia, FAAC Spare Parts Saudi Arabia.