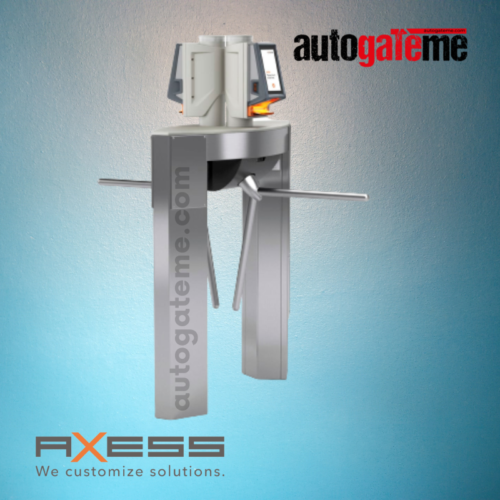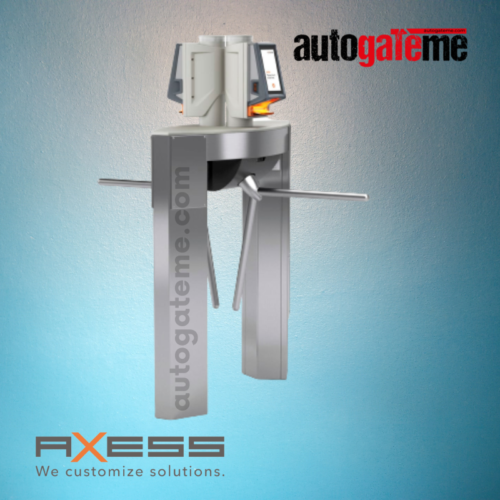 AX500 Smart Access Terminal NG Turnstile
configuration and maintenance via web interface
reads RFID cards (ISO 15693 and ISO 14443 ) contactlessly, barcode tickets and barcodes on smartphone displays
one or both sides can be fitted with turnstiles
Description
Axess turnstiles Ax500 : The space-saving Access system
The AX500 Smart Access Terminal NG is the advanced access solution for all kind of leisure park. Also for sightseeing attractions, stadia, museums, swimming pools and tourist transportation. The system can be equipped with various barriers to one or both sides, thus facilitating two points of access or exit at one single gate. Museums often prefer the sophisticated Axess Flap Glass module or the Flap Standard. Stadia use often a mix of turnstiles and flaps depending on indoor or outdoor use. Touristic transport uses the Flap Paddle to avoid misuse at unattended entrances. Besides the Axess Turnstile Standard module, our Turnstile Panic Mechanic gives immediate exit with one click and allows people to leave the venue in a short time in the case of an emergency. All modules have ADA options to allow easy and barrier-free entry for people with strollers or wheelchairs.
About Axess: 
Axess is one of the internationally leading manufacturers of ticketing and access management systems. With axess production facility in Austria. Worldwide sales and support locations, have all the necessary resources to be able to serve customers. Opening up across ski resorts and destinations, fair and convention centers, stadiums and arenas, leisure- and theme parks and touristic transport. In these fields, axess offer complete resort solutions, customer registration, and customer loyalty programs with social media integration and also numerous standardized interfaces to third-party systems. Individually tailored solutions are developed for individual projects based on proven standard technologies.
axess convince with innovative hardware and also the most modern software modules. Starting from axess standard system, they offer tailor-made solutions for every area of application.
Axess solutions: Individual solutions for ticketing and access management, software products to integrate own business areas . Also CRM systems for managing customer data.
About Autogateme: 
Autogateme is a leading turnstile gate Supplier in Saudi Arabia, we offer a wide and varied range ideally suited for most external and internal applications. Our range includes Half Height Turnstiles gates, pedestrian turnstiles, tripod turnstile gates typically used in libraries and sports centers, electronics shops, factories Full Height Turnstiles for industrial locations applications, and Stadium Pods for sporting venues.