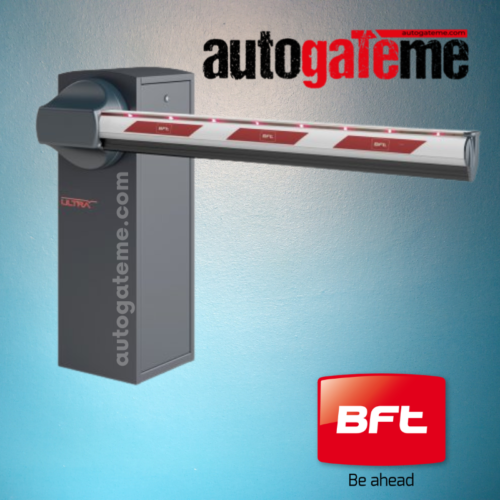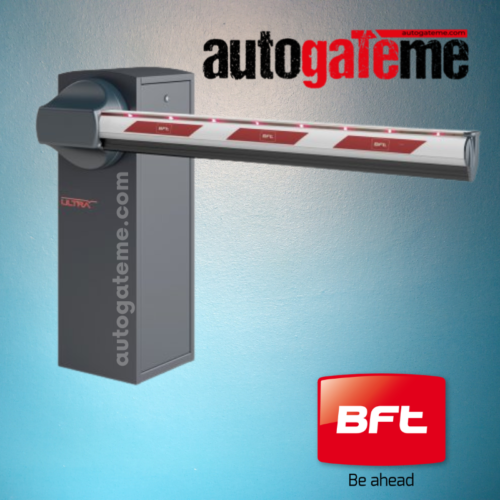 BFT Gate Barrier MAXIMA ULTRA 35 SM ST. STEEL
• Three-phase induction motor
• Control panel compatible with U-Link
• Anti-vandal protection with connecting rod-crank system
Description
BFT barrier Barriers Supplier in Saudi Arabia
BFT Maxima Saudi Arabia by Autogateme : A Electromechanical barrier 220 V with incorporated INVERTER allows 20,000 (up to 3m), 5,000 (up to 5m) Op/gg. Opening time from 0.7 to 3 s with slowdown Yes. Max bar length: 5m. Suitable for installations in areas with frequent transit and frequent reversing (motorway tollgates, busy car parks, etc.).
The barrier can be configured to manage the drive-through gap using the top-mounted control panel. The mechanical crankshaft delivers fluid movement for the boom whilst controlling the soft opening and closing. The same mechanism is able to provide anti-vandalism protection for the gear motor. The barrier is U-Link compatible for integration with Parking Management or Building Management systems.
The LED Light Crown mounted on the top of the cabinet is able to communicate diagnostic information with a multi-color coded system providing maintenance and other vital information without the need to access the control panel.
BFT Barrier Saudi Arabia: 
Based in Riyadh and Jeddah, Saudi Arabia, Autogateme is installers with complete system solutions encompassing gate barrier, turnstile, speed gate, swing/sliding gate motors, software and accessories all over KSA. BFT Maxima, BFT Maxima Ultra 35, BFT Maxima Ultra 68 SM
BFT Products distributors in Saudi Arabia, Riyadh, Jeddah, Khobar, Jizan, Tabuk, Taif, Makkah, Madinah and other part of KSA. Call us for BFT barrier Saudi Arabia, BFT Spare Parts Saudi Arabia. BFT gate barrier Jeddah, Riyadh, Khobar, Jizan, Tabuk, Makkah, Madinah.
Autogateme are leading supplier of the BFT Barrier/boom barrier, spare parts supplier, and installer all over KSA. BFT range of products, customers can order directly from our online catalog with expected delivery within a few working days.
BFT automatic Gates BFT Maxima, Maxima Ultra and others come with 2 years warranty when we install them. We provide Came , BFT, BFT, Nice Gate motors, sensors, remote control and other accessories in cheap price.
Arm Barrier in Saudi Arabia. BFT barrier Saudi Arabia, Automated Entry Systems, Automatic Entry system, BFT motor, bft gate automation kits, bft gate opener remote, BFT gate system Saudi Arabia. FAAC Saudi Arabia, FAAC gate automation.
Contact us today by email: info@autogateme.com or Call/whatsapp us +966540075656