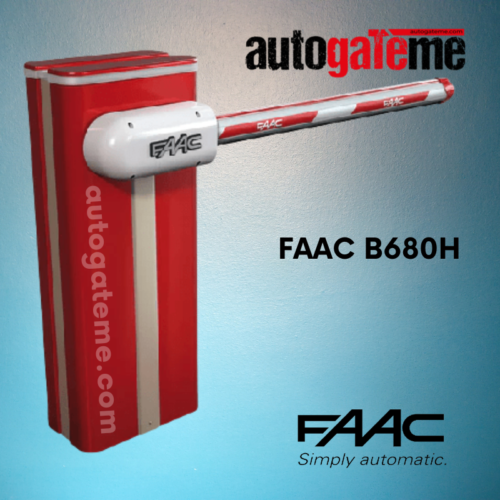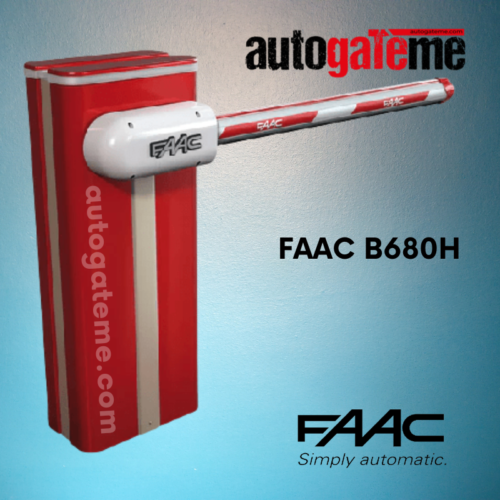 FAAC B680H Hybrid Barrier – Made in ITALY
Hybrid technology: Hydraulic + Brushless motor
Over 2,000,000 continuous use cycles without special maintenance
Advantage of modular items: only one barrier model and two springs for sectional barrier arms measuring 7.5 to 27.2 ft, right or left version, and for different speeds
Removable covers available in 4 colors or stainless steel
Opening speed (programmable): from 1.5 seconds for 7.5 ft barrier arms up to 6 seconds for 27.2 ft barrier arms.
Easy-to-program and technologically advanced control unit: Integrated encoder (with reverse in the event of obstacle), two integrated Loop Detectors, and Master/Slave logic
Compatible with 620 and 640 foundation plate
Description
FAAC B680H or B680 Barrier Gate in Saudi Arabia by Autogateme
Automatic Barrier L Kits
The automated system consists of a white aluminum beam with reflectors (not included), optional signaling lights, a covering compartment, and a steel upright profile. Inside the compartment, there is an operator consisting of the upright profile with a hydraulic unit and two plunging pistons fixed to it, which, by means of a rocker arm, rotate the beam. The latter remains balanced thanks to a balance spring fitted on one of the two plunging pistons. The electronic control equipment is also housed on the upright, inside a compartment, and the whole is protected by the external covering compartment.
The system features an adjustable electronic anti-crushing safety, a device that guarantees to stop and lock of the beam in any position, and a convenient manual release for use in case of black-out or inefficiency.
FAAC b680h "Everlasting" springs
The springs of the B680H have been designed to exceed 2,000,000 cycles.
FAAC b680h Backup batteries
Installing the XBAT 24 module (high-performance Nickel-Metal Hydride batteries), including battery charger, ensures the operation of the B680H even during a power failure:
2,000,000 cycles thanks to the Brushless + Hydraulic motor and "unlimited" springs
Removable cabinet available in 4 colours or stainless steel
High logistic optimisation: a single barrier model suitable for all boom pole lengths
FAAC Barrier  in Saudi Arabia: 
Contact us for FAAC gate barrier Operator  Manual. The AutoGateMe is a leading FAAC automatic slide gates, supplier in Saudi Arabia. We Offer FAAC B680H / B680 Hybrid barrier in Saudi Arabia. FAAC all kits come with a full guarantee. We also offer 'Best Price in the Middle East on all FAAC kits. All automatic gates kits.  so you can buy from us with confidence.
We are Based in Riyadh, Saudi Arabia.  Autogateme is an installer with complete system solutions encompassing gate barriers, turnstiles, speed gates, swing/sliding gate motors, software. FAAC accessories all over the middle east such as UAE, Bahrain, Kuwait and Qatar. We do projects in the middle east cities such as Dubai, Ajman, Abu Dhabi, Sharjah, Doha, Manama, Kuwait city etc.
FAAC B680 Hybrid barrier Products distributors in Saudi Arabia, Riyadh, Jeddah, Khobar, Jizan, Tabuk, Taif, Makkah, Madinah and other part of KSA. Call us for FAAC barrier Saudi Arabia, FAAC Spare Parts Saudi Arabia.
Contact us today by email: info@autogateme.com or Call/whatsapp us +966540075656