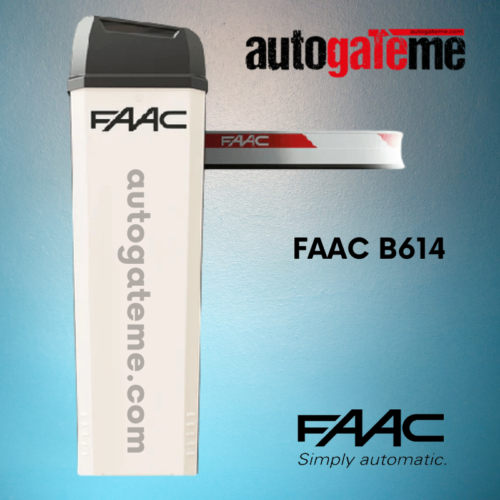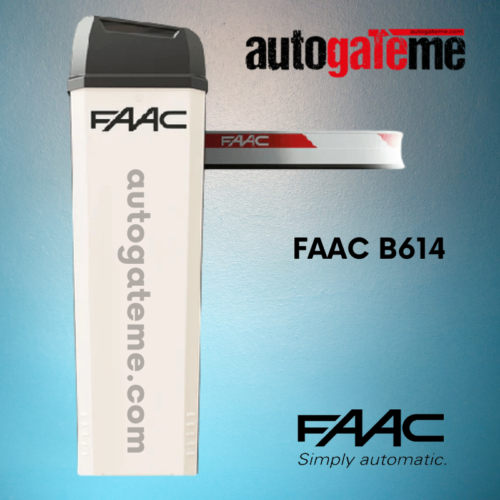 FAAC B614 Barrier – Made in ITALY
Modern design
Dedicated and intuitive electronics
Robust, reliable, high performance
Maximum anti-crushing safety
Complete range of accessories
Description
FAAC B614 Barrier Gate in Saudi Arabia by Autogateme
B614 Product details
A newly designed barrier, aimed at meeting a wide range of requirements, from residential to commercial use.
Dedicated and intuitive electronics
Electronic equipment, integrated into the upper part, is protected by a colored plastic cover that enhances the visibility of the LEDs. Intuitive programming via buttons and display. Wide choice of operating logic and configurable parameters. Integrated OMNIDEC universal radio decoding system. System protection and BUS 2Easy accessories are simple to connect using only two non-polarised wires.
Robust, reliable, high performance
The exclusive use of high-quality components and materials makes the B614 a robust and reliable operator. A quadrilateral lever system with two reduction stages makes beam movement even smoother.
Maximum anti-crushing safety
A 24V motor with an integrated encoder provides a high degree of motion control and allows the reverse on obstacle safety standards to be met.
FAAC B614 Barrier in Saudi Arabia: 
FAAC B614 barrier and others come with 2 years warranty when we install. We provide FAAC sensors, remote control and other accessories for B614 at the most reasonable price.
Auto Gate Middle East Based in Riyadh, Saudi Arabia.  Autogateme is an installer with complete system solutions encompassing gate barriers, swing/sliding gate motors, software, and accessories all over the middle east such as UAE, Bahrain, Kuwait and Qatar. We do projects in the middle east cities such as Dubai, Ajman, Abu Dhabi, Sharjah, Doha, Manama, Kuwait city etc.
We are based in Riyadh, we can do projects all over Kingdom such as Jeddah, Khobar, NEOM, Jizan, Tabuk, Taif, Makkah, Madinah, and Dammam.
Autogateme are leading supplier of FAAC arm Barrier/boom barrier supplier, and installer all over KSA & middle east. FAAC range of products, customers can order directly from our online catalog with expected delivery within a few working days in the Kingdom.
Contact us today by email: info@autogateme.com or Call/whatsapp us +966540075656