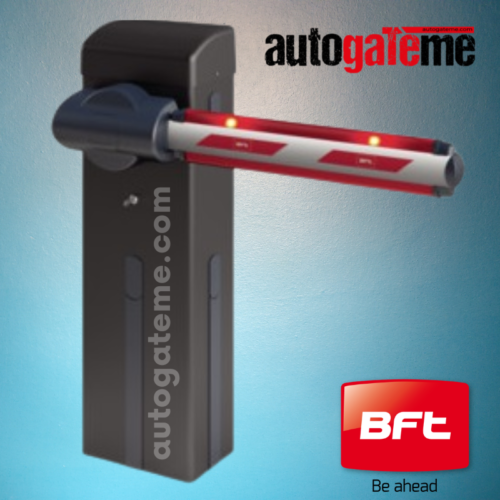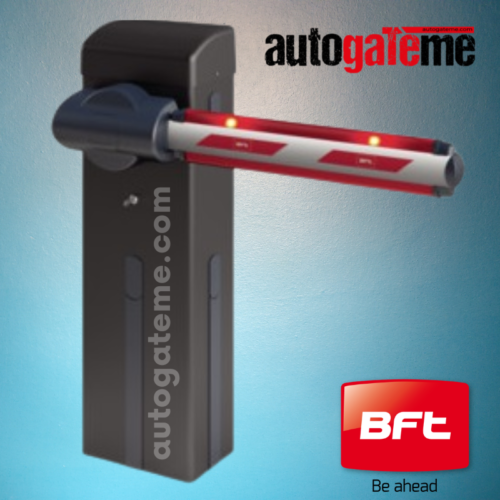 BFT Barrier GIOTTO BT A – Made in ITALY
GIOTTO BT A 60: up to 6 meter
GIOTTO BT A 30: up to 3 meter
Made in Italy
Description
Out of many road barriers suppliers in Saudi Arabia, Autogateme have wide Range of barriers for intensive and very intensive use, able to manage useful passages up to 6 m. Integrated control unit with U-Link connectivity. Available in 24V versions, they have a wide range of accessories making them ideal in any context.
We deal with "Made in Italy" Brand such as CAME, BFT, FAAC, NICE. Model such as CAME G4000, Came G6000, CAME G8 or G8000, CAME G4. BFT MOOVI 60, BFT MOOVI 30, BFT GIOTTO BT A 60, 30 etc.
BFT GIOTTO BT A:
Backup battery power supply system, installable on-board unit.
Limit switch system with electronic adjustment that speeds up installation and ensures maximum precision in movement.
Control unit located in an easily accessible position and separate from the mechanical part
Road Barriers Suppliers in Saudi Arabia:
BFT is world leader in making automatic gate barrier systems and solutions. This Giotto series  barrier works with electromechanical technology.These barriers are with speed variator and three-phase induction motor for high frequency of use. Designed and developed to operate in a wide variety of conditions such as  car parks, motorway with moderate frequency. System can manage the speed of the drop down arm while rising and going down. BFT has developed a unified communication plat form all its products called BFT U link where you can integrate multiple devices in a single software platform.
U-Link protocol, they allow integration in Parking Management or Building Management system. A single communication platform for all types of control units and receivers. The innovative inter connectivity systems developed by Bft along with wireless connection solutions in the field of access point automation become integrated through the new U-link system communication protocol.
All of our automated vehicular gate barrier system options can be configured to work in many different scenarios and options depends on the requirement of specific clients. some of the technologies used in accessing the controlled and restricted areas through gate barrier are, smart Card Technology, biometric technology, remote opening, push buttons, long range RFID card reading technology.
BFT Barrier Saudi Arabia: 
Auto Gate Middle East Based in Riyadh, Saudi Arabia, Autogateme is installer with complete system solutions encompassing gate barriers, turnstile, speed gates, swing/sliding gate motors, software, and accessories all over the middle east such as UAE, Bahrain, Kuwait and Qatar. We do projects in the middle east cities such as Dubai, Ajman, Abu Dhabi, Sharjah, Doha, Manama, Kuwait city etc.
We are based in Riyadh, we can do projects all over Kingdom such as Jeddah, Khobar, NEOM, Jizan, Tabuk, Taif, Makkah, Madinah, and Dammam.
Autogateme are leading supplier of BFT arm Barrier/boom barrier, Sliding Gate, Swing Gate spare parts supplier, and installer all over KSA & middle east. BFT range of products, customers can order directly from our online catalog with expected delivery within a few working days in the Kingdom.
Contact us today by email: info@autogateme.com or Call/whatsapp us +966540075656