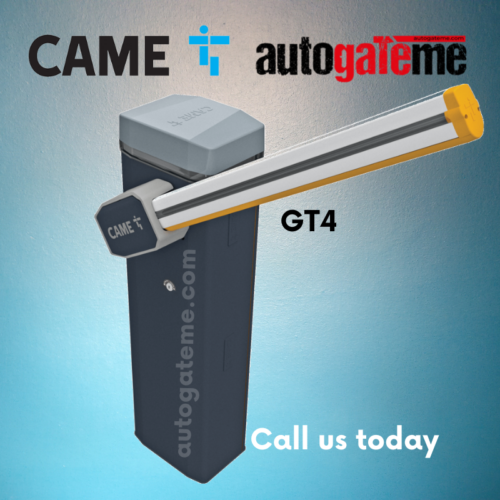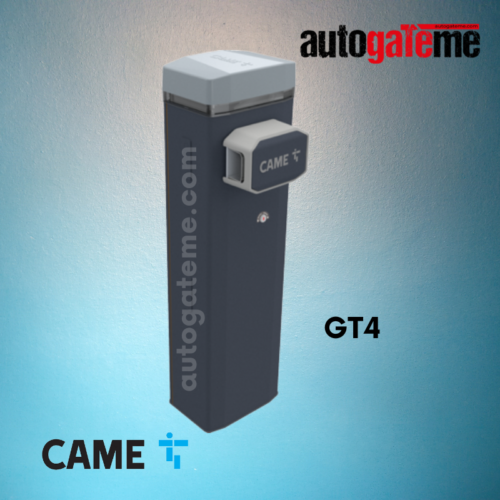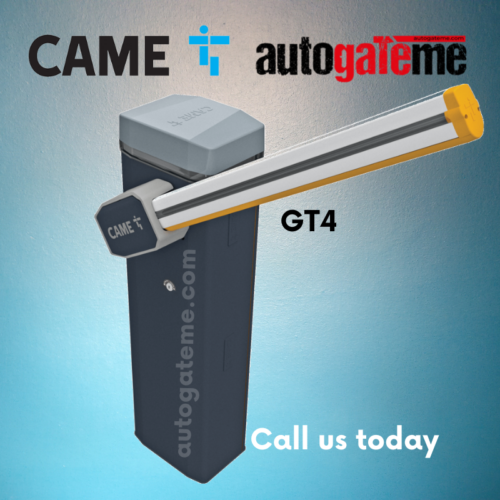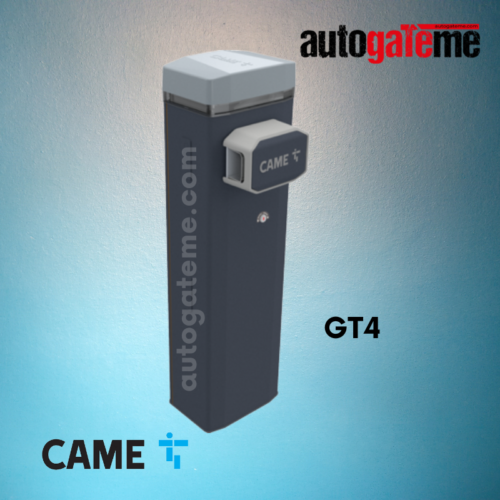 Came GARD GT4 HEAVY DUTY BARRIER – MCBF 3 million cycles
24 V DC operator with Advanced Speed Control.
Tested for intensive use of 160 cycles/hour with MCBF 3 million cycles.
Cabinet available in galvanized steel and painted RAL7024, AISI 304 and AISI 316 steel, or in customized color.
Control board with display, CONNECT technology and inputs for CXN BUS accessories.
Accessories that can be integrated directly into the cabinet.
High visibility red/green LEDs on the crown and on both sides of the boom.
Description
Came GT4 barrier supplier Saudi Arabia. CAME Parking Barrier  GARD GT4  by Autogateme
Came Barrier Gate GT4 or also called CAME Gard GT4 GGT40AGS 803BB-0160 barrier in Saudi Arabia. The Came GT4 is an automatic Came barrier kit with a 4-meter-long arm used to control traffic in different areas. Came parking barrier in kit CAME GT4 barrier is a barrier to access reliable, stylish design and numerous functions . The 4-meter arm barrier can be suitable in private or public car parks. It fits in both industrial and residential areas.
THE NEW BENCHMARK FOR AUTOMATIC BARRIERS
Pursuing quality is our greatest quality at CAME.
Our drive to improve and realize products, built to exacting standards that consistently deliver excellence, time after time, is what sets us apart from the competition. With the GT series of automated barriers, CAME have once again created an innovative solution and set a new benchmark. Effective solutions designed with installer needs at the heart of the research and development process. 2 models were created to make installation, set up, and commissioning easier than ever before.
As part of our constant aim to deliver value to our customers, CAME are taking the next step in our connectivity strategy. The official launch of GT barrier kits will see the inclusion of a CAME Connectivity pack (including RGSM module and SIM card), IN EVERY KIT. Meaning for the first time ever, connectivity and remote management of your barrier systems is ABSOLUTELY FREE. The way you manage your barrier systems is about to change…
With modern design, robust build quality, and intelligence at the heart, the GT range is the most important barrier range we've ever produced. It now includes the most powerful tool we've ever produced too – FREE WITH EVERY KIT.
The benchmark has never been set so high.
About Came : Came GT4 barrier supplier Saudi Arabia
Came is a world-leading solution and product provider of the security barrier. The company's product portfolio includes a full range gate barrier, turnstile, speed gate, and swing/sliding gate motors.
Came is currently the largest global market share in gate barrier, turnstile, speed gate, swing/sliding gate motors; meanwhile, it is the first Italian corporate in security that established a global technology standard. The company invests almost 10% of its annual sales revenue to R&D and by far has more than 1000 professionals in the R&D department to further bring innovation.
Came products are widely used globally in many fields such as retail, education, utility, banking, public security, energy infrastructure, telecommunication, intelligent building, and intelligent transportation.
Came boom barriers – Saudi Arabia: 
Auto Gate Middle East Based in Riyadh, Saudi Arabia. Autogateme is an installer with complete system solutions encompassing gate barriers, swing/sliding gate motors, software, and accessories all over the middle east such as UAE, Bahrain, Kuwait and Qatar. Also Other  middle east cities such as Dubai, Ajman, Abu Dhabi, Sharjah, Doha, Manama, Kuwait city etc.
we can do projects all over Kingdom such as Jeddah, Khobar, NEOM, Jizan, Tabuk, Taif, Makkah, Madinah, and Dammam. We have Came barrier GT4 GGT40AGS 803BB-0160, GT8 series with variants such as 803BB-0160 803BB-0280 803BB-0240 803BB-0260 models.
Autogateme are leading supplier of the Came arm Barrier/boom barrier, spare parts supplier, and installer all over KSA. Came range of products, customers can order directly from our online catalog with expected delivery within a few working days.
Contact us today by email: info@autogateme.com or Call/whatsapp us +966540075656