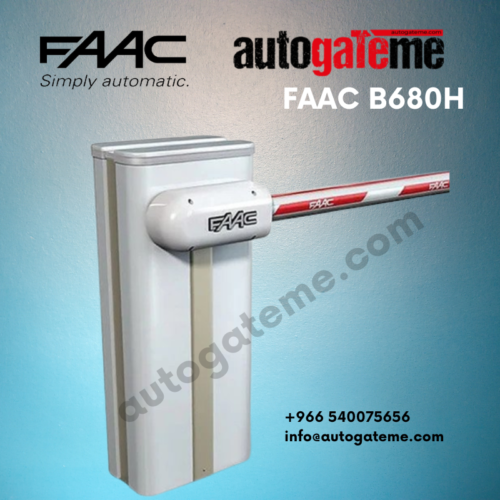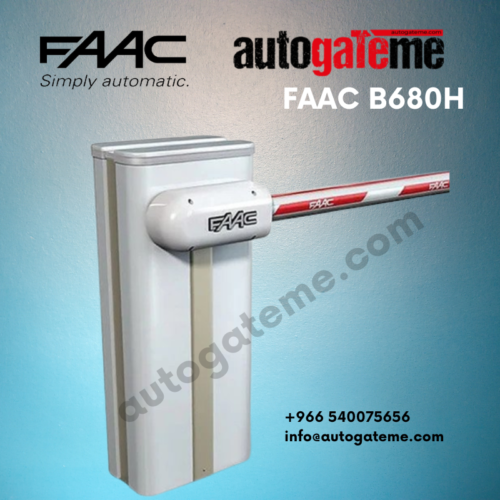 FAAC B680H 24V Hybrid Barrier-up to 8m
• 24VDC Operational Voltage / 115/230VAC Power Source
• Continuous Duty
• Opens in 1.5 to 6 seconds
• Hydraulic + Brushless Motor
• Battery Backup Available
• 2-Year Limited Warranty
Description
FAAC B680H or B680 Barrier Gate in Saudi Arabia by Autogateme
B680H Barrier a Safe performance and reliability
The B680H has a Hybrid heart which, together with its "everlasting" springs, allows it to exceed 2,000,000 cycles of continuous use, raising an 8m pole in less than 6 seconds, in total safety, thanks to the reverse-on-contact feature.
Removable housing

The B680H has an internal load-bearing structure and an external removable housing. This design gives the system great stability and permits easy replacement of the housing.
Extreme flexibility and optimisation of logistics
One single model controls passages with a net width from 2m to 8m. Its modular boom pole makes the B680 H a product which is easy to manage and handle.
Full visibility and control of traffic
The programmable integrated flashing traffic light connector guarantees perfect regulation of traffic, while the LED beam lights signal the closing of the passage even under conditions of poor visibility.
Switching power supply

The switching power supply, with high energy efficiency and extended range, ensures operation of barriers from 100V AC to 240V AC, protecting the system against any fluctuations in voltage occurring with non-optimal power supply systems.
Integrated absolute encoder

Absolute encoder kit for complete control of movement and reversing of the boom pole when an obstacle is detected, ensuring that pedestrian passages also comply with safety standards.
"Everlasting" springs
The springs of the B680H have been designed to exceed 2,000,000 cycles.
Backup batteries
Installing the XBAT 24 module (high-performance Nickel-Metal Hydride batteries), including battery charger, ensures the operation of the B680H even during a power failure:
2,000,000 cycles thanks to the Brushless + Hydraulic motor and "unlimited" springs
Removable cabinet available in 4 colours or stainless steel
High logistic optimisation: a single barrier model suitable for all boom pole lengths
FAAC B680H Barrier Gate Barrier in Saudi Arabia: 
Based in Riyadh Saudi Arabia, Autogateme will install with complete system solutions encompassing gate barrier, turnstile, speed gate, swing/sliding gate motors, software and accessories all over KSA.
Autogateme the leading supplier and installer for FAAC Barrier/boom barrier, spare parts all over KSA. FAAC's range of products can be directly booked/ordered from our online catalogue with expected delivery within few working days.
FAAC automatic Gates barrier such as B680H or B680 Hybrid barrier and others come with 2 years warranty when we install.
Contact us for FAAC gate barrier Operator  Manual. The AutoGateMe is a leading FAAC automatic slide gates, supplier in Saudi Arabia. We Offer FAAC B680H or B680 Hybrid barrier in Saudi Arabia. FAAC all kits come with a full guarantee. We also offer 'Best Price in the Middle East' on all FAAC automatic gates kits so you can buy from us with confidence.
Based in Riyadh, Saudi Arabia, Autogateme is installer with complete system solutions encompassing gate barriers, turnstile, speed gates, swing/sliding gate motors, software, and accessories all over the middle east such as UAE, Bahrain, Kuwait and Qatar. We do projects in the middle east cities such as Dubai, Ajman, Abu Dhabi, Sharjah, Doha, Manama, Kuwait city etc.
FAAC Products distributors in Saudi Arabia, Riyadh, Jeddah, Khobar, Jizan, Tabuk, Taif, Makkah, Madinah and other part of KSA. Call us for FAAC barrier Saudi Arabia, FAAC Spare Parts Saudi Arabia.
Contact us today by email: info@autogateme.com or Call/whatsapp us +966540075656